Purchase your favorite Raminator and Rammunition merchandise online now! Shop here and pay securely with Paypal®. All major credit cards accepted. A Paypal® account is not required to place an order. Check out the hot new products available from Hall Brothers Racing, America's favorite monster truck team.
---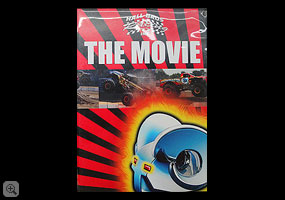 Raminator/Rammunition The Movie
Raminator and Rammunition tear up tracks across the USA with ground shaking Hemi power. See these two trucks in racing and freestyle action. Go on-board with Raminator to see what it's like to ride with over 2,000 ear splitting horsepower! Get ready ... it's gonna get loud!
Item: HBR-MOVIE
Sale Price: $15.00